1987 Live Action Televised Episodes
1987 Live Action VHS Episodes
1987 Cartoon Training VHS
1987 Episode Compilation Movies VHS/Laserdisc
2011 Official DVD Release
1987 Live Action Televised Episodes
Edit
22 live-action episodes were filmed and broadcast as season one of the show.
1987 Live Action VHS Episodes
Edit
6 VHS were released with some of the season one episodes.
1987 Live Action Gag-reel VHS Episodes
Edit
1 VHS that includes several Captain Power music videos as well as the show's gag-reel.
1987 Cartoon Training VHS
Edit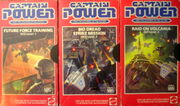 3 VHS cartoon training VHS videos were released.
1987 Episode Compilation Movies VHS/Laserdisc
Edit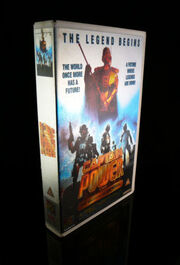 Outside of the US, two Captain Power straight-to-VHS/Laserdisc movies were released which consisted of several episodes edited together.
"Captain Power: The Beginning"
"Captain Power: The Legend Begins"
"Captain Power:Dread's Revenge" (Flame Street / The Intruder / Retribution Parts 1 & 2)
2011 Official DVD Release
Edit
In December 2011, a DVD of the complete original 22 live-action episodes, 1 of the episode compilation movies, and several new original features were released as the "Captain Power and the Soldiers of the Future: The Complete Series" DVD-set.